L'azienda in breve
14 Collaboratori
4311 interventi tecnici gestiti nell'anno 2019
4 Divisioni Aziendali (Telefonia e Videosorveglianza; Sicurezza Informatica, IT, Server e Virtualizzazioni; Cabling e Networking; Efficientamento Energetico ed Energia)
9 Automezzi, 3 Stumenti di Certifica, 1 Giuntatrice di Fibre Ottiche ad elettrofusione, …
1 Area R&D (con la realizzazione, da zero, di svariati prodotti software ed elettronici)
3 Aree Speciali: Ufficio Qualità; Ufficio Gare ed Oliva Control Center (Area Sistemistica di monitoraggio continuo dei clienti, ad accesso riservato)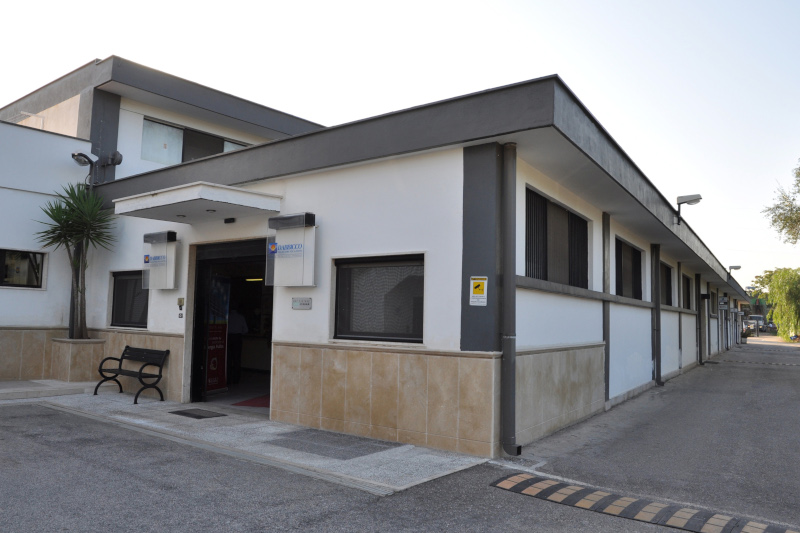 Qualità
L'accuratezza delle nostre procedure interne ed il costante impegno nella soddisfazione dei nostri clienti ci hanno permesso di superare il 22/03/2001 le visite ispettive previste dall'Ente Certificatore per la Certificazione del Sistema di Qualità in accordo ai requisiti della UNI ISO 9001 – 2000 (Progettazione, installazione e manutenzione di impianti di rete dati LAN e WAN, impianti telefonici interni e cablaggi strutturati).
Attualmente la Dabbicco Telecomunicazioni S.r.l. è certificata ISO9001, ISO14001 e ISO45001.


Le Nostre Partnership
NetASQ/Stormshield ADMIN (12V60CNA00747), NetASQ EXPERT (12V60CNE00392) e NetASQ Expert Plus(01V80CNEP00082), Stormshield Expert v2
StormShield CSNA (99V30CSNA62330) v.1 e CSNE (99V30CSNE56989) e Gold Partner Stormshield
WatchGuard Silver Partner
Astaro ACA, Astaro ACE
Partner Mediterraneo ALLIED TELESIS – CAI/RS
VMWare VTSP (VMWare Technical Sales Professional) 2017
VMWare VSP (VMWare Sales Professional) 2017
VMWare Registered Partner (VMWare VSP5, VMWare VSTP5)
VMWare VTSP (VMWare Technical Sales Professional) 2015
VMWare VSP (VMWare Sales Professional) 2015
VMWare Professional Partner
Veeam Sales Professional VMSP (Soluzioni di backup in ambienti virtuali)
Veeam Technical Sales Professional VMTSP (Soluzioni di backup in ambienti virtuali)
Veeam Silver Partner
Veeam VCSP (Veeam Cloud & Service Provider)
Huawei Certified Network Professionals – Constructing Unifyng Storage Network v2 – HCNP
Huawei Certified Network Associate – Building the Structure of Storage Network (HCNA-Storage-BSSN)
Huawei Certified Sales Specialist of Storage Solutions HCSS-SS
Barracuda Registered Partner
Kaspersky Gold Partner
Kaspersky MSP Partner (Managed Service Program)
Sophos MSP Silver Partner (Managed Service Program)
Business Partner IBM
HP Business Partner HPE
Installatore certificato PANDUIT
Installatore certificato QUIBIX
Installatore certificato DAETWYLER
Leviton Authorized Network Integrator
Ubiquiti Enterprise Wireless Admin UEWA
Reseller Corporate PROMELIT telefonia e videosorveglianza
Dealer FITRE apparati industriali
Silver Partner SOPHOS
DataLab – Partner Tecnico Certificato per le soluzioni IP ACTi, Arecont Vision, Fujinon e Illuminar
Milestone Certified Integration Technician
Agenzia Sorgenia
Linux Red Hat Ready Partner
L'elenco completo delle certificazioni del responsabile tecnico-sistemistico è liberamente e pubblicamente accessibile su linkedin all'indirizzo: https://it.linkedin.com/in/claudio-dabbicco-0a50625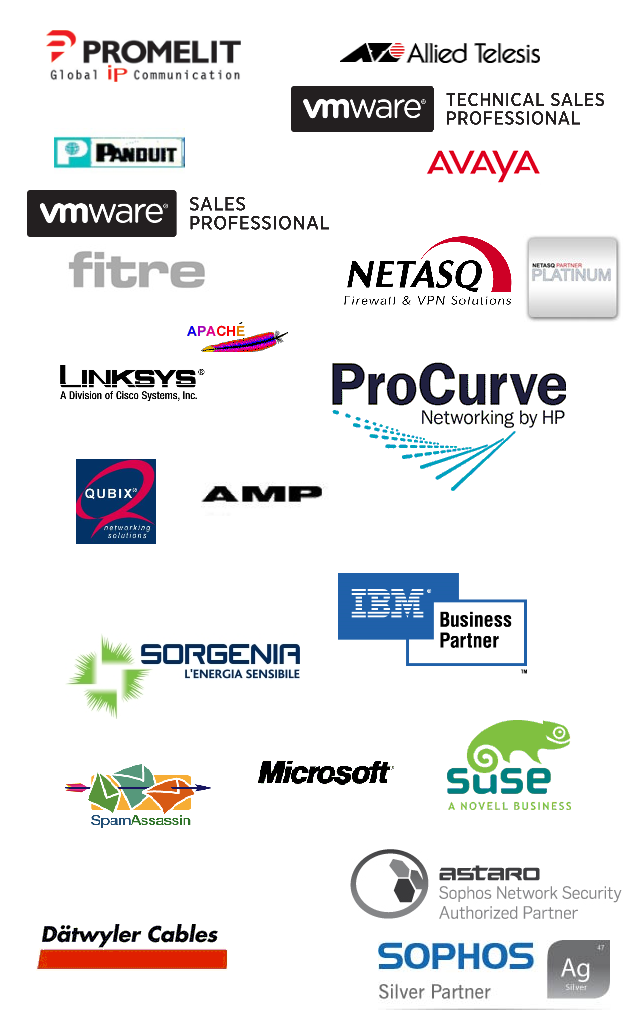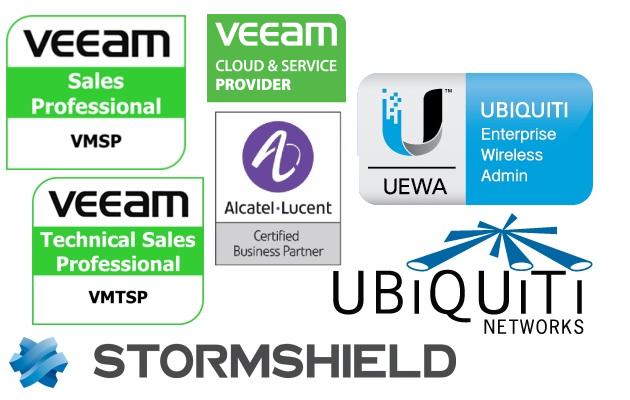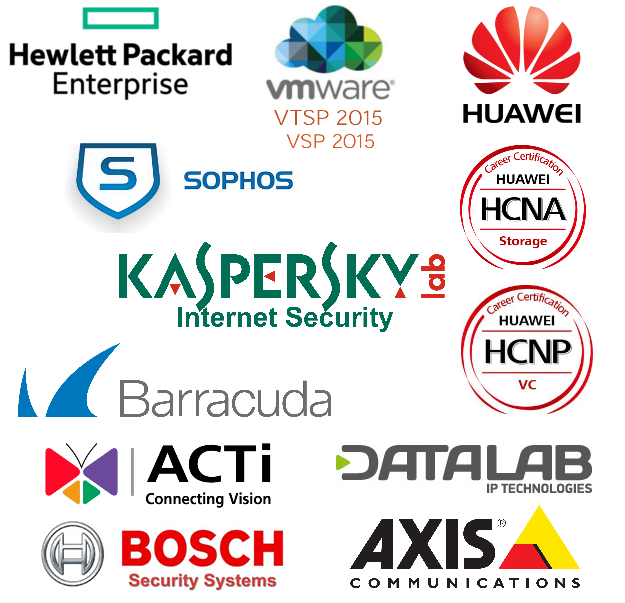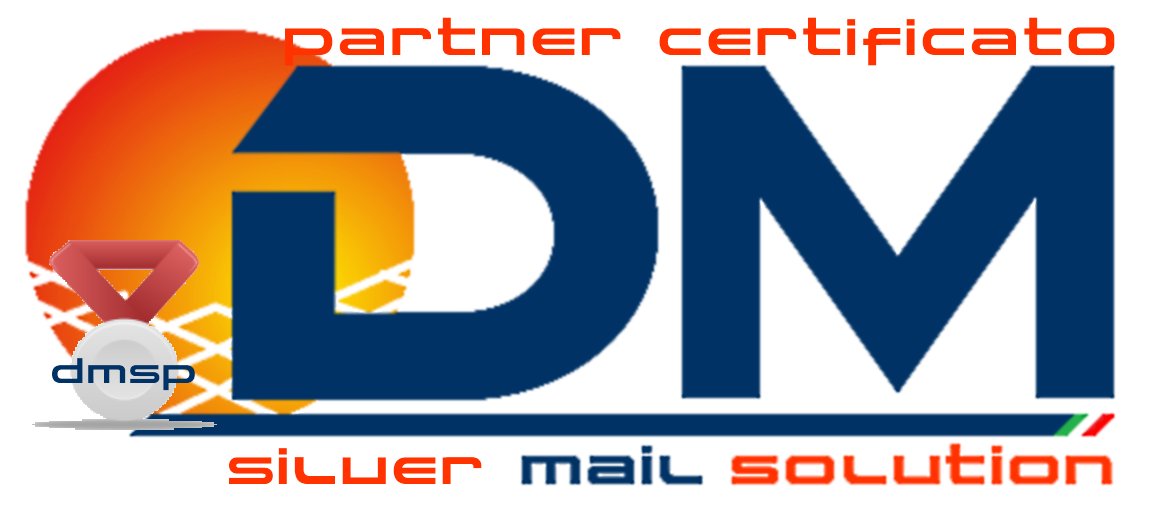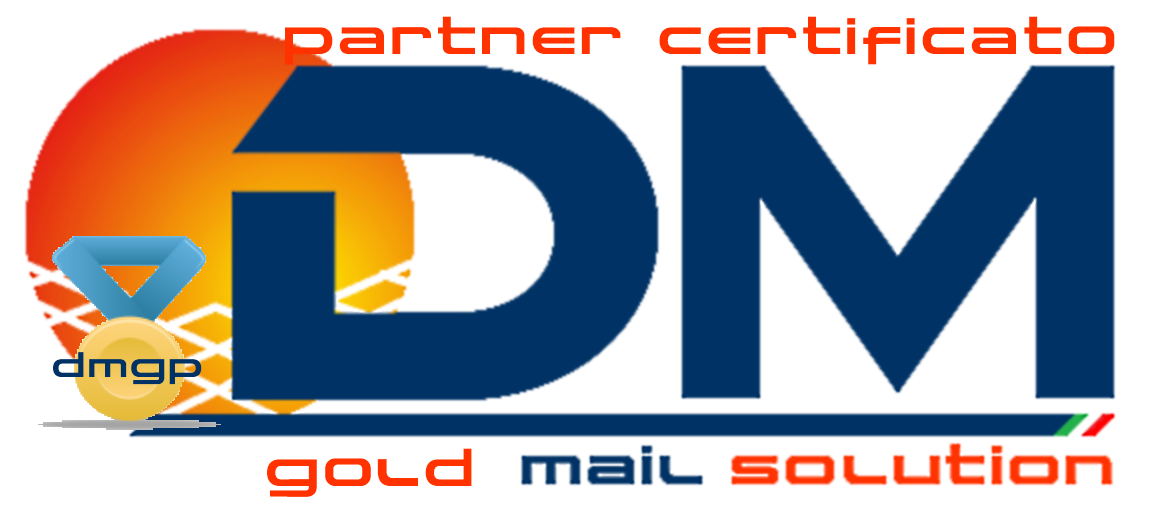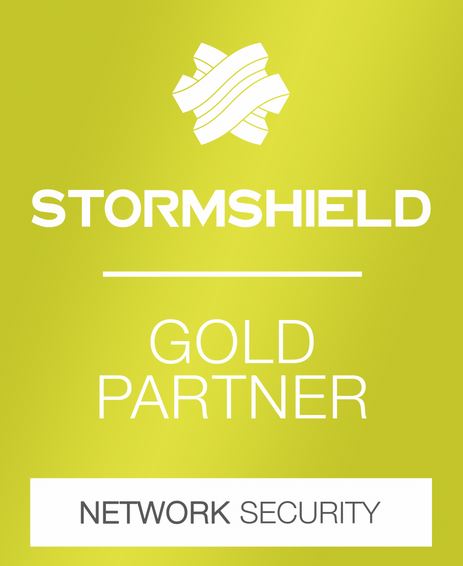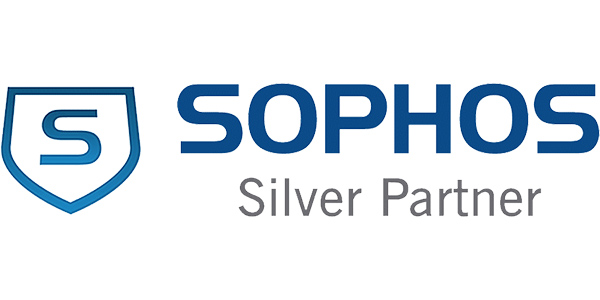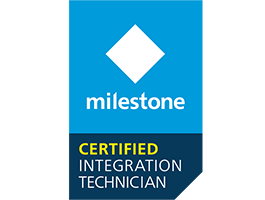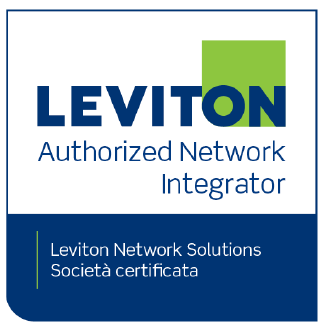 Finanziamenti
L'impresa ha partecipato al "POR Puglia FESR 2014-2020 – Azione 3.7.a – Avviso INNOPROCESS Interventi di supporto a soluzioni ICT nei processi produttivi delle PMI – Progetto n. X3EZ1F6"
Certificazioni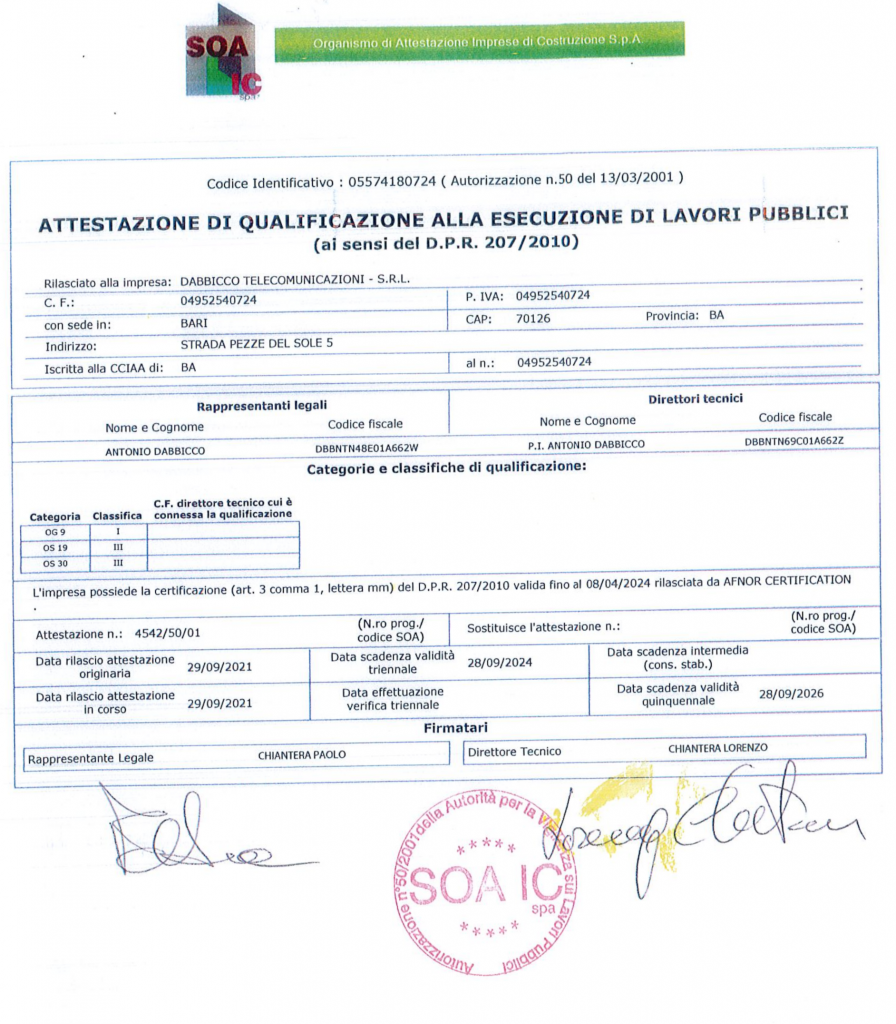 Attestazione SOA: OS 30 classifica III e OS 19 classifica II.
Fornitore NATO NCAGE CODE AG315
La nostra Azienda era in possesso dell'Autorizzazione Ministeriale di I° Grado rilasciata dal Ministero delle Comunicazioni per l'installazione, il collaudo, l'allacciamento e la manutenzione degli impianti di telecomunicazione secondo quanto previsto dall'art. 2 dell'allegato 13 del D.M. del 23 maggio 1992, n. 314. La certificazione è stata abolita nel 2012 e, ad oggi, non è più necessaria.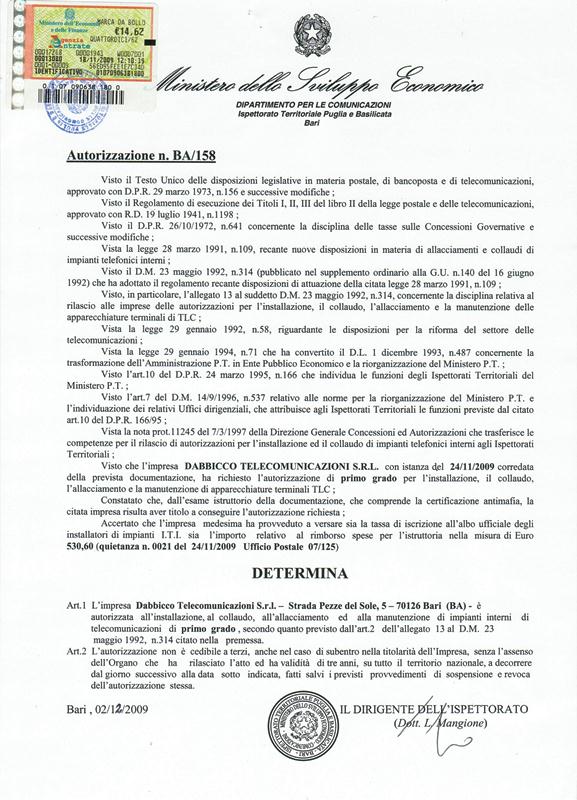 Premiazioni
La Dabbicco Telecomunicazioni è Best Partner of the Year iPECS LG-ERICSSON – anno 2023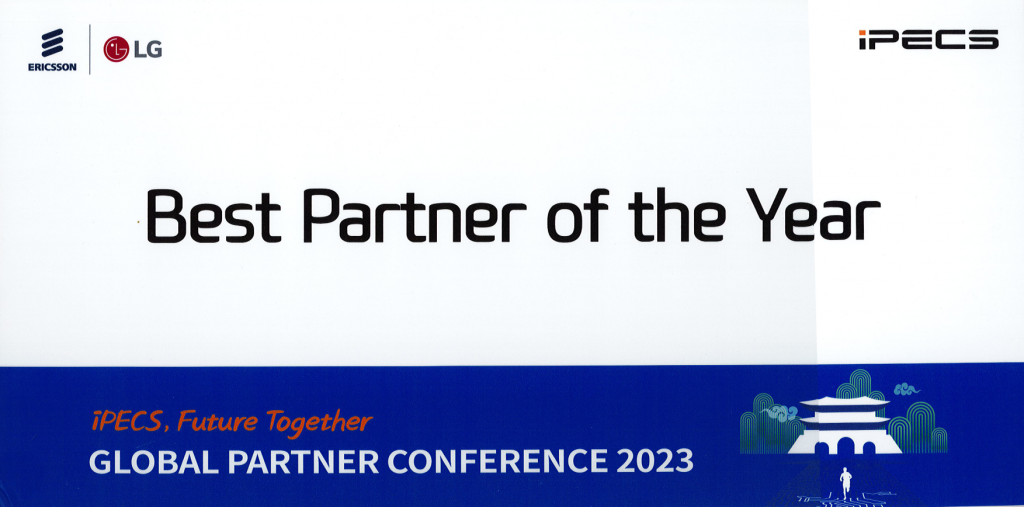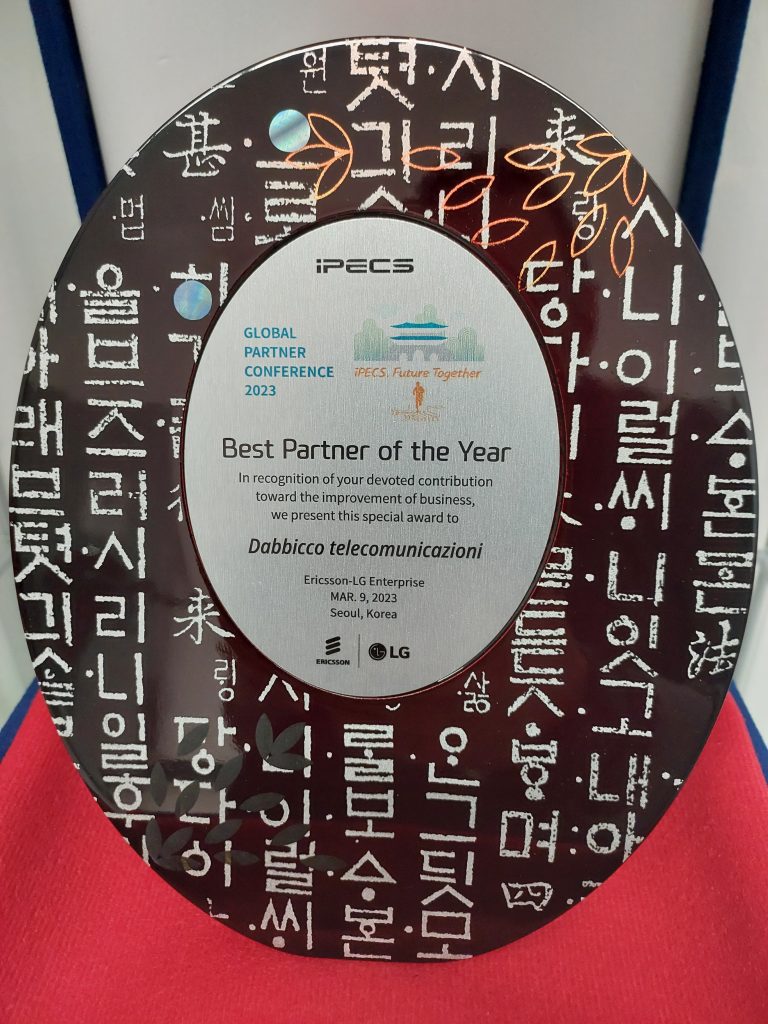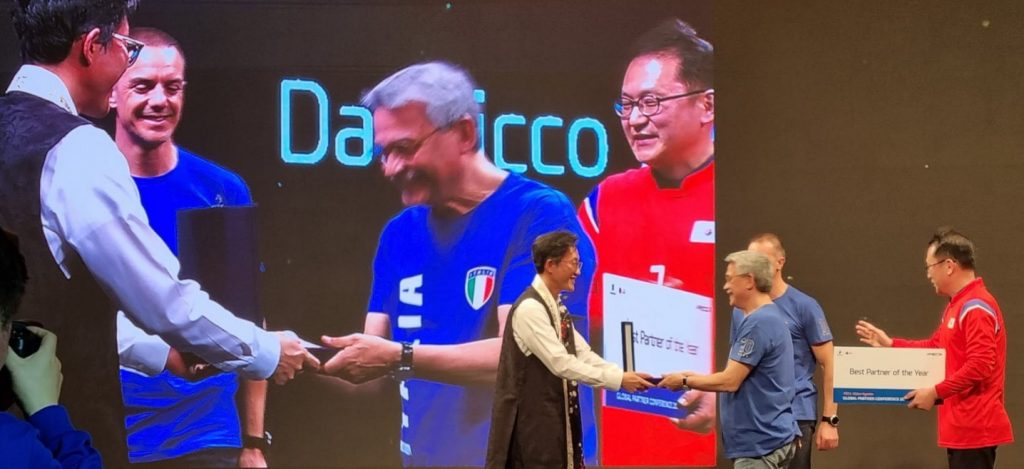 Le nostre sponsorizzazioni
La Dabbicco Telecomunicazioni è Official Partner della Lega Pallacanestro Serie A, di cui effettua anche il service informatico al Palaflorio di Bari.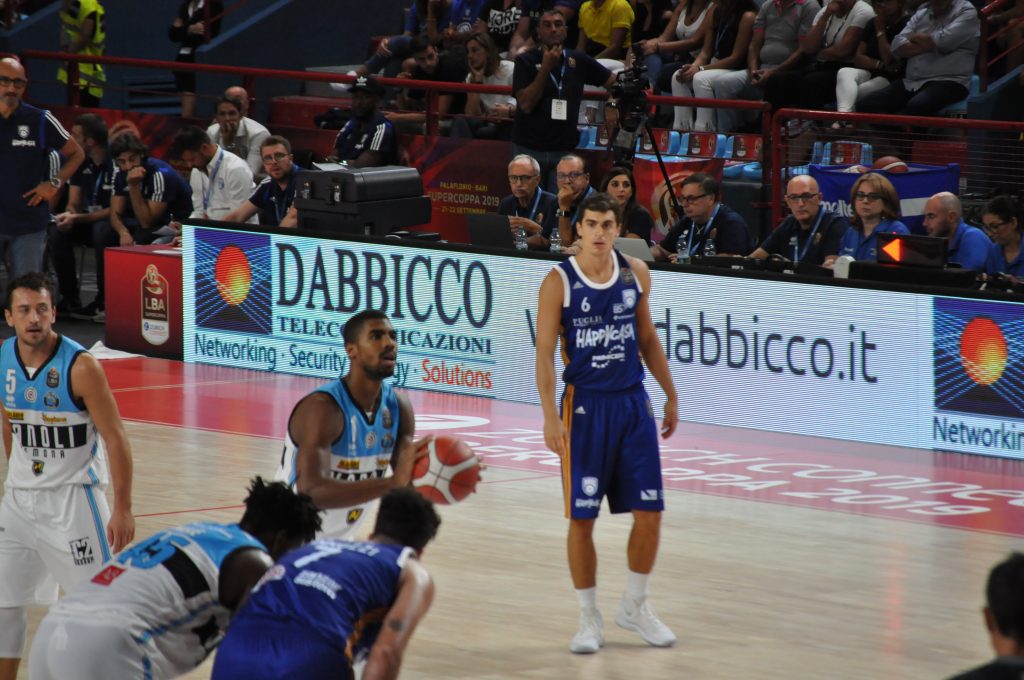 In un contesto tecnicamente complesso a causa dell'altissima densità di connessioni ed interferenze, sempre al Palaflorio di Bari, la Dabbicco ha effettuato il service informatico per la Federazione Italiana Pallavolo per i seguenti eventi:
FIVB Volleyball World Grand Prix 2014
FIVB Women's World Championship Italy 2014 (Mondiale Femminile)
FIVB Volleyball World Grand Prix 2016
FIVB Men's World Championship Italy 2018 (Mondiale Maschile)
Lega Pallavolo Serie A Finali Coppa Italia Del Monte Maschile 2018
FIVB Tokyo Volleball Qualifications 2020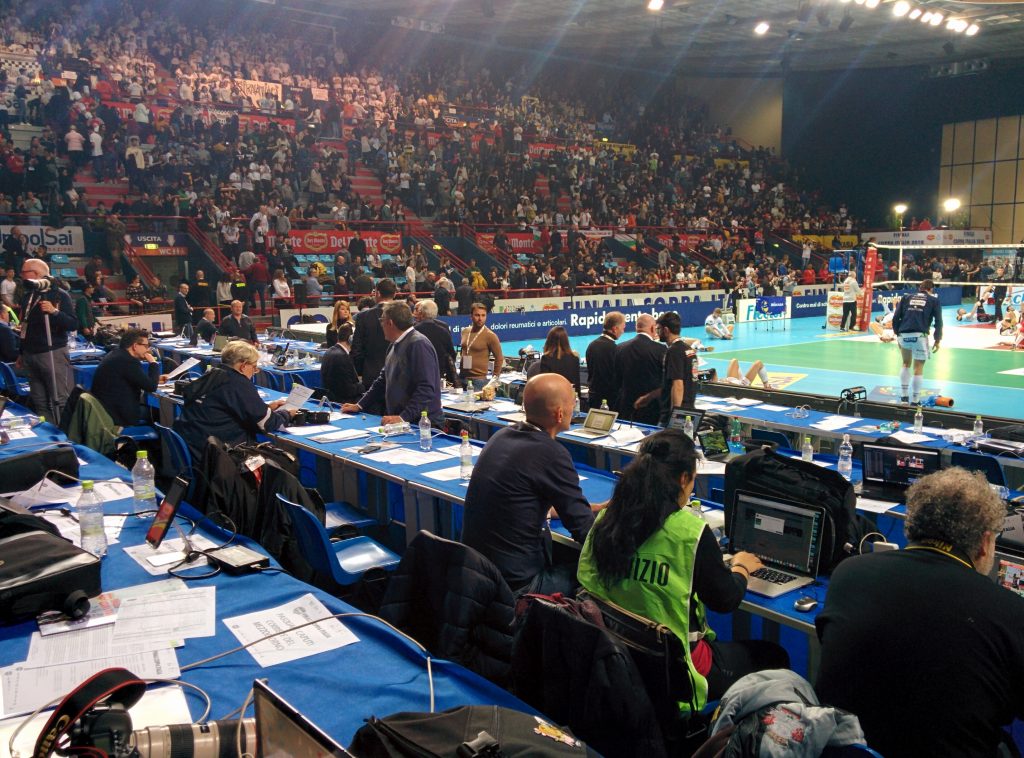 La Dabbicco supporta Ganzuria V Sailing Team per le stagioni 2018-19, 2019-20 e 2020-21.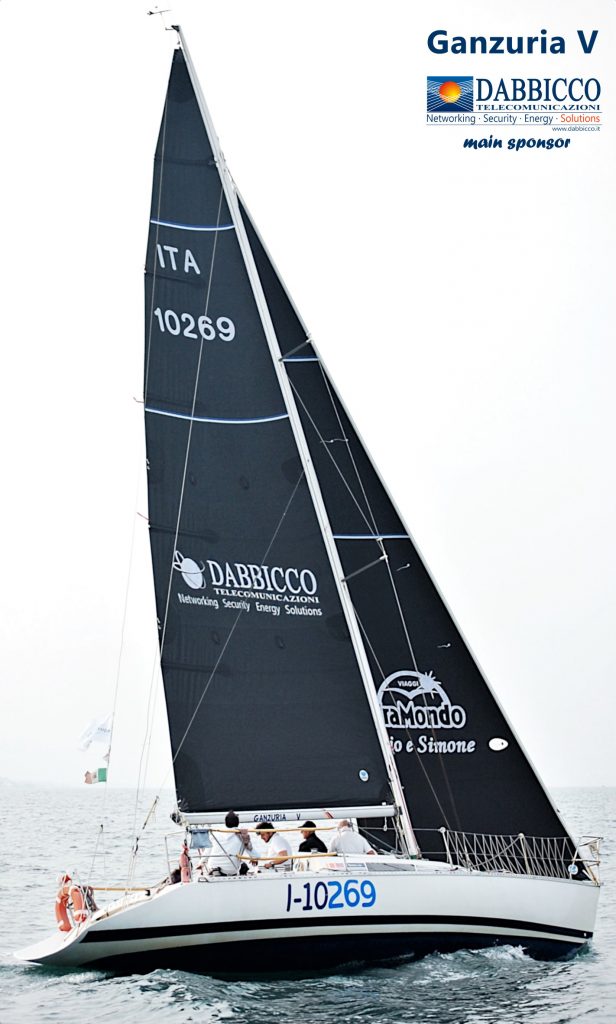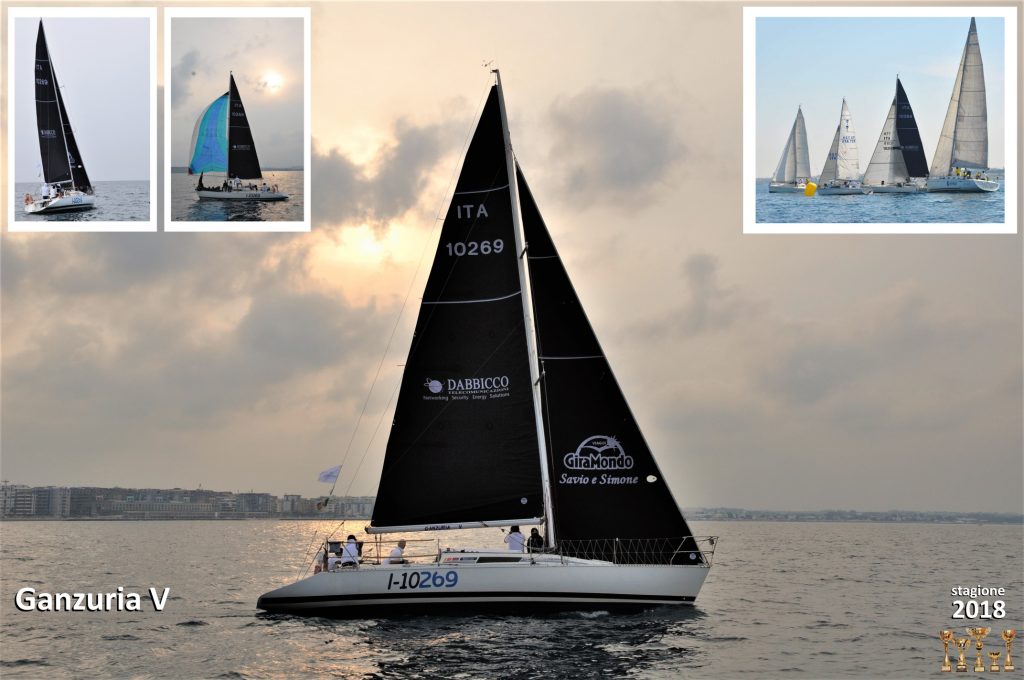 ---
Contributi ed aiuti a fondo perduto € 12.501,12